Are you having some trouble installing uTorrent (µTorrent) on Ubuntu, Debian, Linux Mint? If yes, then in this tutorial, I will share some simple steps that you can follow to smoothly install uTorrent in any of these or similar Linux distros.
The BitTorrent client uTorrent is one of the most popular Torrent clients for Linux users around the world. The best part about this torrent software is that it is lightweight, fast, efficient, and easy to use, making it a popular P2P file sharing platform. The tutorial below will guide you by installing the most recent version available for Ubuntu, Debian, and Linux Mint.
Additionally, uTorrent download works across Windows, Mac, Linux, and Android, which offers cross-platform synchronization. Let's get started without any further ado.
How To Install uTorrent On Ubuntu, Debian, and Linux Mint
The most recent version of uTorrent for Linux was released for Ubuntu 13.04, but it will still work on Ubuntu 20.04 LTS. Go to the uTorrent Linux download page to download the uTorrent server package for Ubuntu 13.04.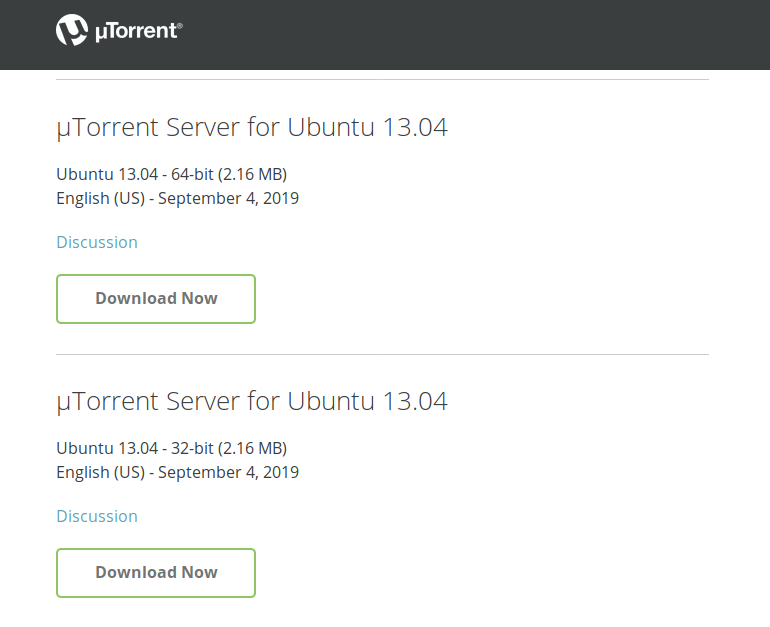 An Alternative Approach – Using Command Line
The following steps will describe how to install the client using Command Line.
Step 1 – Prerequisites
Start by going into your application window and selecting your Command Terminal. You can also use ( Ctrl + Alt + T ).
Using the following command, we need to install the necessary packages on your system before Installing uTorrent.
sudo apt-get install libssl0.9.8:i386
Step 2 – Setup uTorrent
Obtain The uTorrent Package from the official website using the below command.
cd /usr/src
sudo wget http://download.utorrent.com/linux/utorrent-server-3.0-25053.tar.gz
Use the following command to extract the downloaded archive package.
sudo tar xvzf utorrent-server-3.0-25053.tar.gz
sudo chmod -R 777 /usr/src/utorrent-server-v3_0/
Next, create a softlink of the uTorrent Server in the System Bin Directory.
sudo ln -s /usr/src/utorrent-server-v3_0/utserver /usr/bin/utserver
Step 3 – Start uTorrent Server
Finish by starting the uTorrent server with the following command
utserver -settingspath /usr/src/utorrent-server-v3_0/
uTorrent will be accessible via port 8080 on the local system. Go to the URL below and connect to your system on port 8080 through a web browser.
http://localhost:8080/gui/
Username: admin
Password: <keep it empty>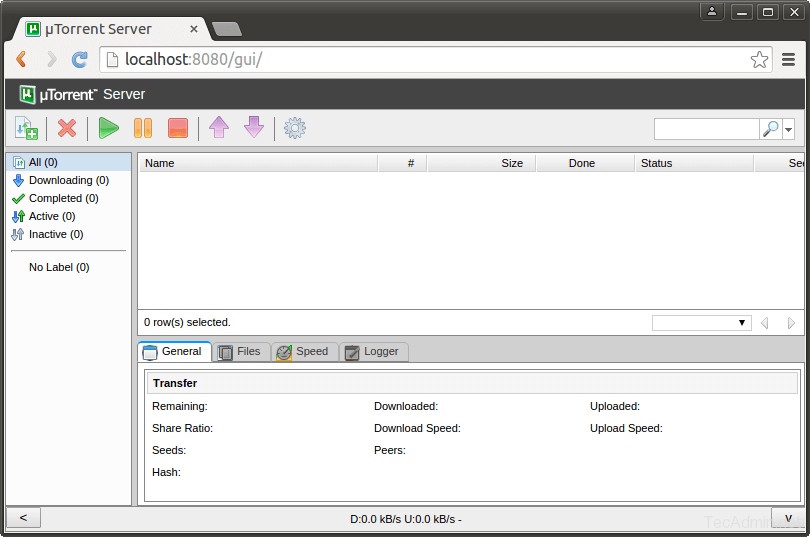 How To Delete or Uninstall uTorrent On Ubuntu, Debian, and Linux Mint
You can remove uTorrent by following the instructions below.
Start by stopping the current torrent process.
sudo pkill utserver
After that, remove the installation directory.
sudo rm -r /opt/utorrent-server-alpha-v3_3/
You will also need to remove the symbolic link.
sudo rm -r /opt/utorrent-server-alpha-v3_3/
Features Of uTorrent
Linux's native uTorrent client is a web-based application, so you'll be using uTorrent via a web browser. You should also check out How to Install ADB and Fastboot on Ubuntu. There are a variety of features in the uTorrent server, which includes:
Distributed hash table (DHT)
UPnP port mapping
NAT-PMP port mapping
Upload rate limiting
Download rate limiting
Queuing
Configurable limit on the number of simultaneously uploading peers
Incremental file allocation
Block-level piece picking
Separate threads for file-check and download
Single thread and single port for multiple torrent downloads
BitTorrent extension protocol
Multi-tracker extension support
Fair trade extension
Compact tracker extension
Fast resume
Queuing of torrent file-check if fast resume not possible
HTTP seed support
Resumption of partial downloads from other BitTorrent clients
File sizes greater than 2GB
The selective download of multi-file torrents
IPv6
The high-performance network stack
uTP – Advanced UDP-based transport with dynamic congestion control
Conclusion
In this tutorial, we explored different methods to install uTorrent on Ubuntu and other similar Linux distros. By following the steps in this tutorial, you can get uTorrent up and running in a couple of minutes. If you come across any issues, then share them in the comments section, and I would be more than happy to assist you.
If you decide to delete or uninstall uTorrent from Ubuntu or other Linux distros, you can also find the steps to do so in this tutorial. We have also included the guide to uninstall the uTorrent client. So, if you want to get rid of it soon, you can do that with ease.